Documentary and Disability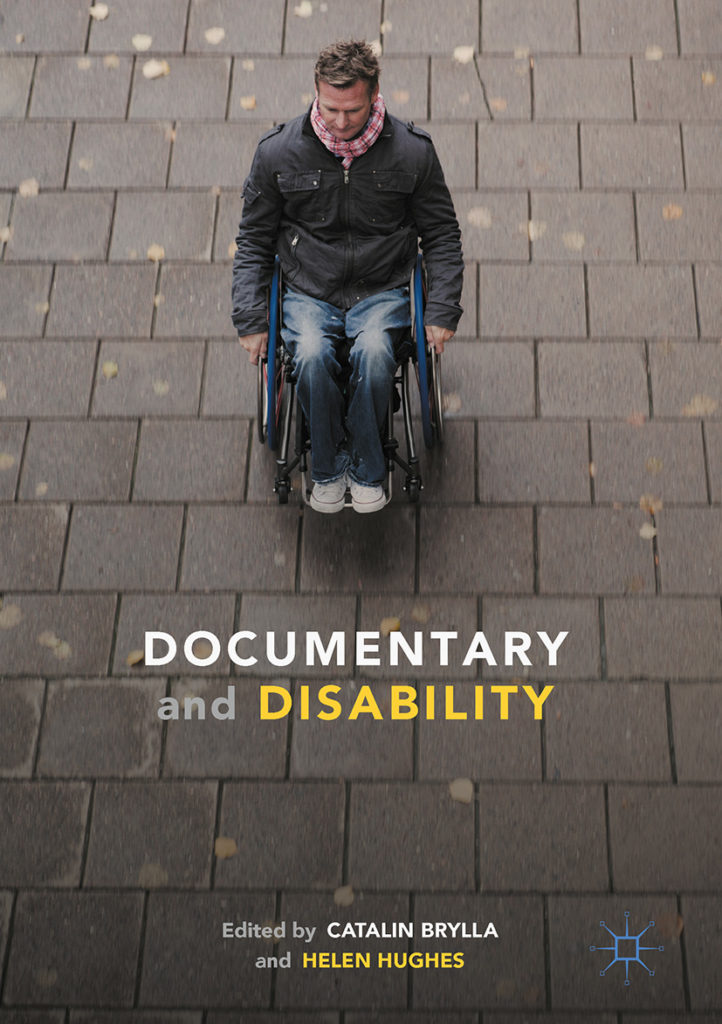 This is an edited collection (Palgrave, 2017), edited by Catalin Brylla and Helen Hughes. It explores the intersection between documentary film and disability studies. Documentary has played a significant role in the social construction of disability, and several essays exist in different contexts that explore both the destructive and the positive aspects of this history. Thus, the proposed volume aims to make an explicit connection between these two fields in order to understand better how the tools of documentary studies and disability studies can be brought to bear in understanding the past and the current potential of documentary in the socio-cultural construction and awareness of disability. Consequently, the volume illuminates the topic not only from an academic perspective but will also offer a practice-focussed viewpoint from industry practitioners and practice-based researchers. It is intended to fill a gap in both disciplines: on one hand, documentary studies need to discuss contemporary portrayals of disability, practices of disabled filmmakers and industry policies that determine access, inclusion and representation; on the other hand, some of the many areas of disability studies need to adopt more explicit methodologies that explore film texts, authorship and spectatorship in order to assess the current situation of disability in the television and independent documentary sector. On a more social level, the purpose of this volume is to address the medial construction of disability and reduce "otherness" as a phenomenon of cultural stigmatisation.
---
TABLE OF CONTENTS

Foreword (Michael Schillmeier)
Introduction (Catalin Brylla and Helen Hughes)

Part One: Film Practice
Chapter 1: Not Without Us – Collaborating Across Difference in Documentary Filmmaking (Samuel Avery)
Chapter 2: Visual Psychological Anthropology and the Lived Experience of Disability (Robert Lemelson, Annie Tucker)
Chapter 3: Valorising Disability On Screen And Why Has 'Inspirational' Become A Dirty Word? (Veronica Wain)
Chapter 4: Spectatorship and Alternative Portrayals of Blindness (Catalin Brylla)
Chapter 5: Documentary and Aberrancy (Phoebe Hart)
Part Two: Representation
Chapter 6: Thomas Quasthoff and the Performativity of (Dis-)ability (Anna Drum, Martin Brady)
Chapter 7: Rethinking Ability and Disability in the Work of Van der Keuken (Hing Tsang)
Chapter 8: The Phenomenology of Animated Documentaries on Disability (Slava Greenberg)
Chapter 9: The Poetics of Touch: Mediating the Reality of Deaf-blindness in Planet of Snail (Anne-Marie Callus)
Chapter 10: Yes, we fuck! – Sexual Dissidence and Crip Empowerment (Andrea García-Santesmases)
Part Three: Identity, Participation and Exhibition
Chapter 11: Alternative Ethical Maps of In(ter)depenent Living in Global Disability Documentary (David Mitchell, Sharon Snyder)
Chapter 12: Interface Productions and Disability Programming for Channel 4, 1984 – 1986 (Tony Steyger, Jamie Clarke)
Chapter 13: Disability and the Para-TV Communities of Reality Television (Anita Biressi)
Chapter 14: The Production of Disability in Televisual Experimental Systems (Robert Stock)
Chapter 15: To Document is to Preserve: Moving Pictures and Sign Language (Magdalena Zdrodowska)
Chapter 16: Documenting Neuropolitics: Cochlear Implant Activation Videos (Beate Ochsner)
Chapter 17: On Andrew Kötting's Mapping Perception (Helen Hughes)
---
Reviews
"This book assembles an international group of scholars and filmmakers to address the significant topic of documentaries about disability. The book uses a wonderfully broad definition of documentary to investigate everything from traditional non-fiction films to YouTube videos to reality television to early 20th century films about sign language. This book truly provides unique and much-needed perspectives about disability representation and identity, as well as film practice, in the documentary world."
Beth Haller, Professor of Journalism/New Media, and Graduate Director, Towson University, USA
"A commitment to modes of sustained seeing and testimony makes documentary forms central to any critical engagement with the cultural meanings surrounding 'disability'. The quality and depth of analysis across a range of case studies allow this collection to break new ground in the exploration of documentary-disability relations, in the process illuminating the alternative practices of portrayal which are possible."
John Corner, Visiting Professor in Communication Studies, University of Leeds, UK
"This collection is as fascinating, thought-provoking and indispensable as the genre of documentaries it describes. Accounts from those who have made films, or had films made about them, mingle with the perspectives of disabled and non-disabled viewers and critics. Neither do the editors forget the diversity of impairments and contexts – from art to advocacy to reality TV – which constitute this field. Every disability studies scholar should read this book!"
Tom Shakespeare, Professor of Disability Research, University of East Anglia, UK
"Documentary and Disability celebrates process and spontaneity, inclusion and experimentation. This collection of essays boldly counteracts negative stereotypes and re-appraises a broad range of documentary forms and media, of disabilities and the excessively documented body. In their Introduction, the editors speak to a hope that this anthology become "part of the struggle for a better future"; along with their talented contributors, they have already succeeded."
Nicole Markotić, Professor of English, University of Windsor, Canada; author of Disability in Film and Literature, McFarland & Co.
"Documentary and Disability is an indispensable book for anyone interested in reading about, writing about, or making a documentary film about disability. It collects a wide group of authors comprised of activists, scholars, and critics.  From theory to praxis, covering almost every aspect of disability, the book provides compelling and wide-ranging information and viewpoints.  No one should ever think about disability documentaries without reading this book."
Lennard J. Davis, Professor of Disability and Human Development, University of Illinois at Chicago, US)
"What a valuable range of perspectives is offered in Documentary and Disability! The editors wisely choose an interdisciplinary approach to a complex, important and sensitive topic. By covering disability on-screen from several points of view, including behind and in front of the camera (the decision-making process of the filmmakers is fascinating), the volume avoids the rhetorical pitfalls of so many studies of disability in the media. With this kind of cultural awareness, it is no wonder that documentary remains the most respectable and respectful of film genres to approach the world of people with disabilities."
Charles A. Riley II, Associate Professor of English, Baruch College, US, Author of Disability and the Media
"The editors aptly construe the combination of disability with documentary not as inevitable but as a nexus bursting with the potential to enact social change. Their lively collection boasts a stellar list of scholars from across global and career maps. These authors exuberantly resist that disability is only either documentable or spectacular. The book's imaginative chapters collectively twist the medical gaze, exposing what is to be celebrated about the creative truths of disabled life."
Sally Chivers, Professor of English, Trent University, Canada