Zanzibar Soccer Dreams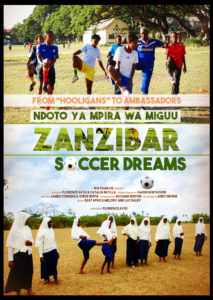 Trailer
Synopsis
Zanzibar Soccer Dreams highlights the transformation of women taking place in the playing fields of Zanzibar, where the benefits of soccer as a uniting force and a development tool are evident. Today, young girls have equal opportunities to play soccer in schools. Women's Soccer has truly gone mainstream, and is becoming part of popular culture and imagination. It is also a dream come true for the sportswoman who founded the first female soccer team, Women Fighters Team.
Nassra J. Mohammed has been the architect and inspiration for developing women's soccer in Zanzibar since the late 1980s. Her mission to bring the game into mainstream is gaining momentum. The government has listened and responded positively by changing its policy to allow young girls to participate in soccer as part of sports education. Back in 2006, Nassra said, "If women get equal opportunities to use pitches…if football can be taught in schools, it will survive and develop in future…" Today, the introduction of soccer in schools is a major breakthrough for the development of women's soccer in Zanzibar.
The film shows the realisation of Nassra's soccer dreams and goals. Many young women who aspire to play soccer at a higher level share her goals. Young girls in schools are now more determined and vocal about their rights to play soccer.
Through different activities, we see the excitement of the changing soccer landscape in Zanzibar. We hear about the memorable experiences of the players who went to Germany. Young girls speak about their dreams, the challenges and hope for the future. Some parents are more receptive to the idea of girls playing soccer, but some parents and religious leaders still hold their position against women playing soccer and 'exposing' their bodies.
The film presents Nassra's soccer story. We see some of her ideas slowly turning into concrete reality through different football activities. We hear from young girls who speak about their dreams, challenges, struggles, achievements and hope for a brighter and better future. However, the most important change is happening and the future is bright as young girls embrace their chance to kick the ball and run around, screaming. They are excited and loving the right to play soccer, thanks to Nassra's vision and mission to transform women's participation in, and enjoyment of the game.
Screenings
Canadian Sport Film Festival (Toronto, Canada) – World Premiere and Closing Night Film – May 2016
Zanzibar International Film Festival (Zanzibar, Tanzania) – African Premiere – July 2016
Lisbon International Film Festival (Lisbon, Portugal) – Official Selection Summer Edition 2016
TrueDoc Documentary Festival (Kiev, Ukraine) – September 2016
Reel Sisters of the Diaspora Film Festival & Lecture Series (New York, US) – October 2016
Cambridge African Film Festival (Cambridge, UK) – October 2016
Watch Africa – Wales African Film Festival (Wales, UK) – October 2016
Arusha African Film Festival (Arusha, Tanzania) – November 2016
Africa in Motion – Scotland African Film Festival (Glasgow, UK) – November 2016
Britain Tanzanian Society Screening (London, UK) – November 2016
Media Coverage